TLD Loves a Good Walk in the Park
We at TexasLegalDocs.com are all about enhancing the quality of life for Texans. To that end, one of our primary focuses will be on financially supporting Texas parks and public open spaces. From Memorial Park in Houston to Trinity Park in Fort Worth, from Lost Maples State Park in the Hill Country to the Monahans Sandhills in West Texas, from Big Bend to the Padre Island National Seashore and beyond, you can count on our support!
TLD Wants to Lend a Helping Hand
We are serious in our desire to help our fellow Texans in need. It is indeed a privilege to offer our financial support to faith-based organizations around our State who minister to the spiritual, emotional and physical well-being of our fellow Texans.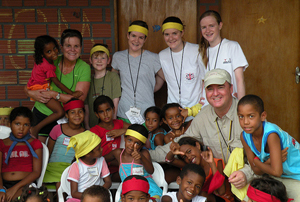 TLD Cares for Our Neighbors TexasLegalDocs.com supports a wonderful outreach organization known as Volunteers For Christ, Inc. ("VFC"), a non-profit IRS approved 501(c)(3) Christian organization formed for the specific purpose of reaching out to the poor,destitute children of Brazil. Specifically, VFC provides educational, medical, housing, vocational and spiritual comfort and assistance to the villagers of tiny Abreu do Una, a remote fishing village on the coast of Brazil, as well as to the citizens of Recife, Brazil, a city of several million impoverished residents. At both locations, VFC focuses on improving the lives of the local children, mostly orphaned and plagued with disease, drugs and deplorable living conditions. We encourage you to visit VFC's website, vfcbrazil.blogspot.com, to gain a full
understanding and appreciation for its varied programs and initiatives. Thank you in advance for your prayerful consideration of this ministry.